The Concorde, introduced in 1976, was the first passenger airliner that traveled at supersonic speeds. This was the product of a joint venture between British and French companies and remained in operation until 2003.
The Concorde could
supercruise
at Mach 2.02 and had a top speed of Mach 2.04.
The Concorde utilized a revolutionary dart wing design for passenger planes, obviously for increased speed. It also had a double-delta wing design that allowed for landing at lower speeds. Also, it had a nose that could "droop" down that allowed for better landing visibility.
Early production setback...
The original plan for the Concorde was to have 300 built. However, due to an Arab oil embargo, oil prices rose steeply and orders were swiftly cancelled. In the end, only 20 aircraft were ever built. These were operated by British Airways, Air France, Singapore Airlines, and Braniff International Airways.
The Concorde was facing retirement by the 21st century. It had a dated cockpit with analog dials and controls (since there were no competing aircraft, there was no pressure to upgrade) and an airframe worn down by close to 30 years of service.
The crash on July 25, 2000 sealed the deal. Although this was the only accident in Concorde history, the lost confidence in Concorde was never regained and passenger numbers remained low.
Finally, on November 26, 2003, Concorde G-BOAF of British Airways, the last Concorde still in service, made is retirement flight to Filton, Bristol, UK, her place of birth.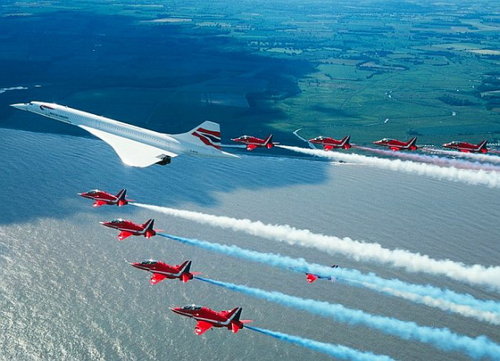 Fuel Efficiency (or inefficiency)...
The Concorde was a fuel consuming beast. The passenger mile to US gallon ratio for a 747 was 109 while the ratio for a Concorde was 14.
The Concorde could cross the Atlantic in 3 hours, which meant that European passengers could arrive earlier than when they left!