Right now, Eurocopter and Sikorsky are competing to create a helicopter than can fly at speeds similar to turbo-prop powered aircraft but have full hovering capabilities of a conventional helicopter.
Both have come up with innovative designs.
Eurocopter's X-3 sports a pair of turbine engines as well as a pair of forward-facing propellers mounted on small wings just under the rotor.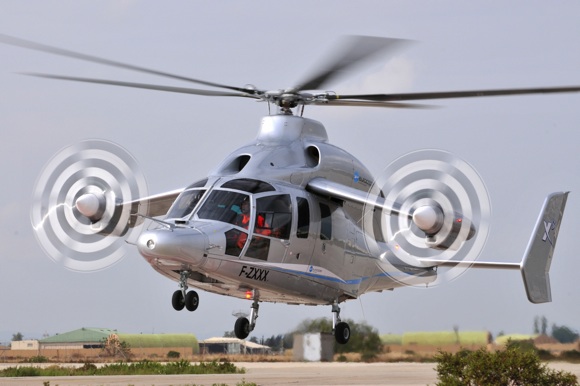 Sikorsky's X-2, uses a pair of counter-rotating main rotors and a rear facing propeller, where a tail rotor on a conventional helicopter is supposed to be, to create that extra push.
Both helicopters look increasingly promising, although Sikorsky's two-seat slim design seem to be veering to a more attack-helicopter like concept while Eurocopter's X-3, with its greater cargo space, could be used more as a transport or search-and-rescue aircraft.
Sikorsky's design has recently reached the 250 knot point whereas Eurocopter, a bit behind, plans to gradually work their way to 180 knots by December. Their hope is have the X-3 eventually fly at cruise speeds of 220 knots.