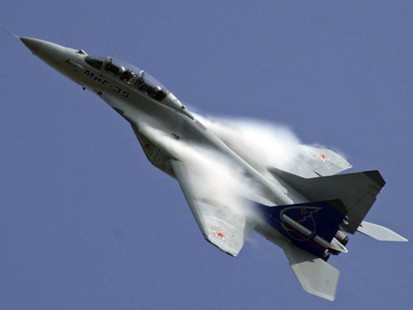 Russia's new MiG-35 (NATO reporting name "Fulcrum-F" is a further development of the MiG-29M/M2 and MiG-29K/KUB technology. The plane is classified as a 4++ generation jet fighter by Mikoyan. The plane is still under development and as of 2008, there are 10 prototypes built. The MiG-35 was first officially presented by MiG Corporation during the Aero India 2007 air show.
Overview…
The MiG-35 is classed as a medium-weight aircraft that can perform multiple roles. Among its many counterparts are the Dassault Rafale, Eurofighter Typhoon, F/A-18E/F Super Hornet, and the F-16 Fighting Falcon.
This new and vastly improved version of the MiG-29 uses the new Phazotron Zhuk-AE Active Electronically Scanned Array (AESA) radar, the more powerful RD-33MK engines, and a new designed Optical Locator System (OLS). There is also a reduction in analog electronics in the MiG-35 cockpit.